A big inspiration for me are Balkan recipes. Let's just remember lazy man sarme, vegan apricot dumplings or močnik (Slovenian porridge).
So not only Slovenian culture but the whole mixy mix from Ljubljana to Tirana (this sounds like some kick-ass Balkan song) just seems so fantastic to me. Of course I like to explore foor of Middle east and Asia too but all of that comes secondary.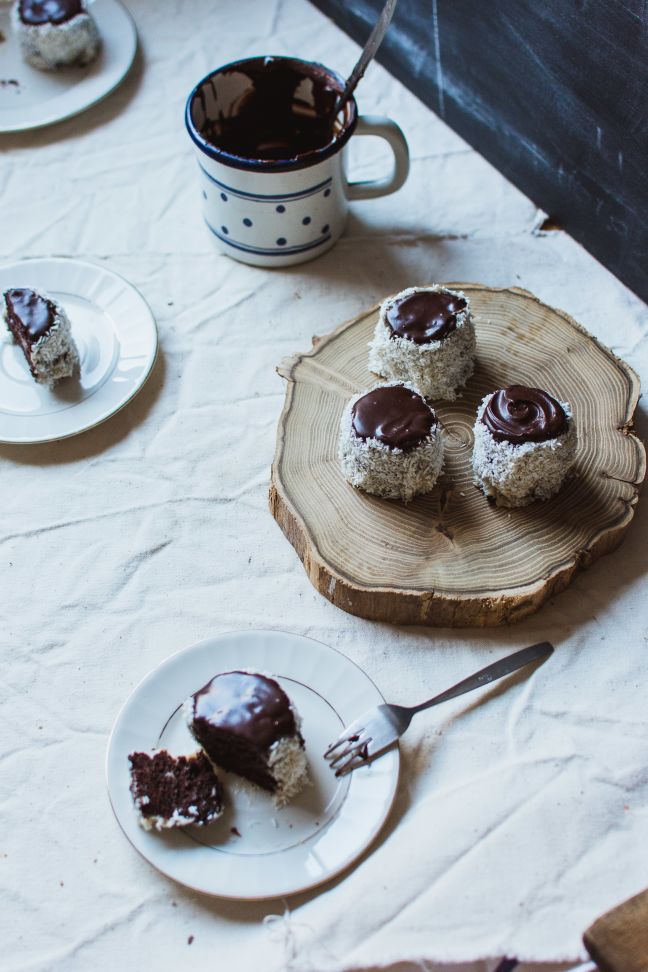 That's is why I find it extra cute when I take an old-school recipe of something that is a part of all wedding and birthday celebrations and turn it upside down a bit. Shake the tradition. And ask myself - can I replace this margarine with something else? Can we do it without eggs?
Doing so is at my own risk, messing with tradition can be lethal. But if the result is excellent - as today's ruske kape, I happily and proudly share it with you.
Russians's hats take some time but they are worth it! And I still didn't say what exaclty they are! Chocolate sponge filled and covered with vanilla cream, rolled in shredded coconut and topped with chocolate.
PS.: And please don't be mad that I have beed using this AMAZING recipe for chocolate sponge over and over again. Like in this chocolate poke cake with pear puree or chocolate muffins with vegan caramel.
I wish you a lot of fun times and licked fingers while making them!
it would be great if you have
roll up your sleeves
1.&nbsp

Bake the sponge cake!

Start preheating the oven on 200°C.

In one bowl mix flour, sugar, cocoa, baking powder, baking soda and salt. In another mix milk, oil, vinegar and vanilla extract. Mix the dry ingredients slowly in the liquid mixture.

Line a baking tray (37 x 31 cm*) with parchment paper. Pour in the mixture and bake around 20 minutes. Let it cool down when it is baked!

Blend all the ingredients for the cream. Blend it until the mixture is nicely smooth and has homogenous consistency.

3.&nbsp

Mmm, melted chocolate

Start making the chocolate topping about 30 minutes before you plan to decorate Russians' hats with it - so at the end.

Bring milk to boil in a small saucepan. Add roughly chopped chocolate and let it sit for 2 minutes. After that mix it with a whisk until it completely melts.

Put it in the fridge for 20-30 minutes. You will decorate the Russians' hats with it if it won't be too thin nor too thick.

4.&nbsp

Let's put them on our head

Cut the chocolate sponge in circular shapes. I made them Ø4 cm. You can help yourself with a cookie cutter or a small glass (and then use a knife to cut around it). (Read below what to do with the sponge leftovers.)

Take one cut-out and cut it in half in the middle. Spread a bit more than a teaspoon of cream on one half and then put another half on it (like a hamburger). Now spread the cream all around them (but not on top or on the bottom) and dip in the coconut right away. Repeat with all the cut-outs and place them on a tray or plate.

When the chocolate is done spread it on top of Russians' hats.

They are the best after they have been in a fridge for a while. Well, if they last till then :) Bon appétit!
wise-ass corner
* My first try was with 21 x 36 cm tray. It works fine but the cutting is much more difficult since the cake turns much higher.
The sponge leftovers can turn into a perfect second-dessert! I crumbled them together with some homemade sour-cherry jam (I added so much that the mixture was moist but not too wet). Then I formed small balls and decorated them with leftover cashew cream and coocnut.