Potica is a traditional Slovenian cake or dessert that we make for all the big occasions. It really is on EVERY celebration. And Easter is no exception. It must be on the table. There are different versions of it. At my home the one with walnut filling is the most common. But today I took my potica on a trip to Middle East. And it got a makeover there. So the filling is made from dates, tahini, cardamom and pistachios. The plus is also that my potica wants to be a bit healthier – so I used spelt flour instead of white one. Yalla, let's get cooking!
---
**For one bundt pan Ø 20 cm
(*if you have a bundt pan of different
dimensions
read the wise-ass corner at the bottom of the page)
; Medium difficulty; Time of preparation 1 h + time for rising**
---
Ingredients
For the dough
1/2 cube of yeast (20 g)
50 ml warm water
50 ml warm milk
40 g brown sugar (you can also use honey)
2 tablespoons of spelt flour
300 g spelt flour
50 g butter ; melted
Good pinch of salt
1 egg
Extra : Some extra spelt flour for dusting the place where you will roll the dough, butter to butter up the pan and powdered sugar.
For the filling
200 g dates (as juicy dates as you can get)
50 g tahini
1 dl milk
1 pinch of salt
1 teaspoon of powdered cardamom
1 teaspoon of powdered ginger
60-80 g pistachios
Instructions
Place yeast, water, milk, sugar and 2 tablespoons of flour in a bowl. Mix well and place to a warm place so the yeast can activate. It will take around 20 minutes.
Add flour, salt, egg and butter. Mix well. When the yeast mixture is activated add it also. Mix well with a spatula then put the dough to a floured kitchen counter and knead 4 minutes. ATTENTION! Because I'm so lazy I always set a timer, so I don't stop after 2 minutes. It's really important to knead it for long time. When you're finished oil the big bowl, put the dough inside, oil it also and cover everything with a clean kitchen towel. Set to a warm place for around 1 h 30 min. Afterwards the dough should be twice to triple in size and very soft to the touch.
While the dough is rising prepare the filling. Blend all the ingredients except the pistachios in a food processor. A thick paste should form. If you had very dry dates you might need to add a bit more milk.
When the dough has risen roll it on a floured surface to approx. 30 cm x 20 cm. Spread the filling evenly over it and sprinkle with chopped pistachios. Roll the dough to form a dowel. Cut the ends away. Butter the bundt pan and place the dough inside so the ends stick together. If there's too much of it just cut the extra dough away and bake it as you would cinnamon rolls .
Cover with kitchen towel and let it rise in a warm place for 1 h and 15 min more.
Bake on 180°C around for 40 minutes.
Let baked potica cool down. When it is cooled down put it out of the pan and sprinkle it with powdered sugar.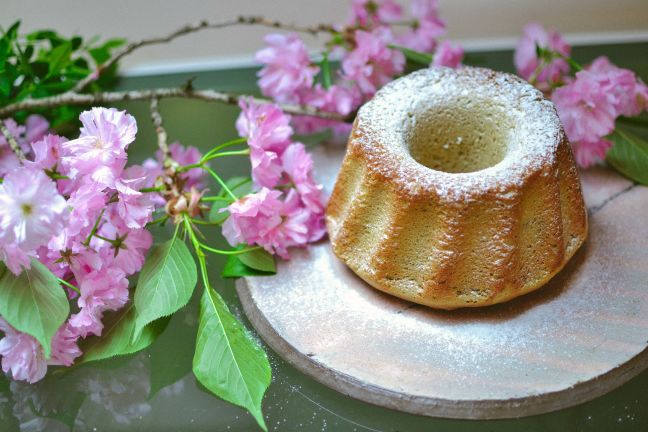 Wise-ass corner
If you have a bundt pan with Ø 30 cm make the dough from 1 kg of flour (multiply all the ingredients with 3). If you have a bundt pan that is somewhere between 30 cm and 20 cm make the dough from 600 g of flour (multiply all the ingredients with 2). If you decide to bake potica in a bigger pan bake it for longer than 40 minutes!
Play around with spices a bit. I think that cardamom is a the most representative spice of Middle East but you can also use cinnamon, nutmeg, cloves,…