We were having picnic and some pasta to use in the pantry. I whipped the two pasta salads up from the stuff we had and everyone loved them.
I want to tell you right on the beginning that the ingredients can change with your taste. You think that three tomatoes are not enough? Add more! You don't find your pasta creamy enough? Add more cream cheese. And so on…
Why is pasta salad (not really a salad, is it?) so practical? Because you can make bunch of it when you are preparing food for lots of people, you eat it cooled down so there is no heating up, it's a cheap way to feed hungry mouths and also delicious of course.
In my lifetime I did have some awful pasta salad experiences on birthdays and other celebrations, when I was like WHO MADE THIS AND WHAT WAS SHE THINKING.So the bottom-line for these two bowls of pasta was to make them actually good.
Not dry and tasteless mushes of pasta nothingness.
That means don't be a cheap ass with the ingredients! And taste it before you serve it.

---
Each recipe is for a bigger bowl of salad ; Very easy; Time of preparation 30 min
---
Ingredients
1/2 kg pasta
1 fistful chopped olives
1 red pepper cut into cubes
200 g cream cheese
3 tablespoons olive oil
1 spoon vinegar
Sal, black pepper and paprika powder by your taste.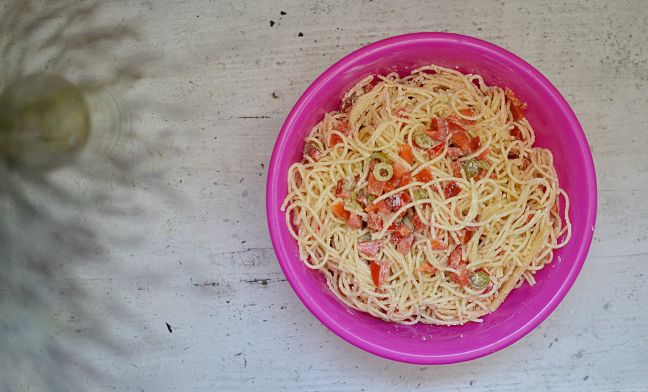 Ingredients
1/2 kg pasta
3 tomatoes sliced into cubes
1 can of corn
1 green pepper slices into cubes
5 big tablespoons of mayonnaise
Sol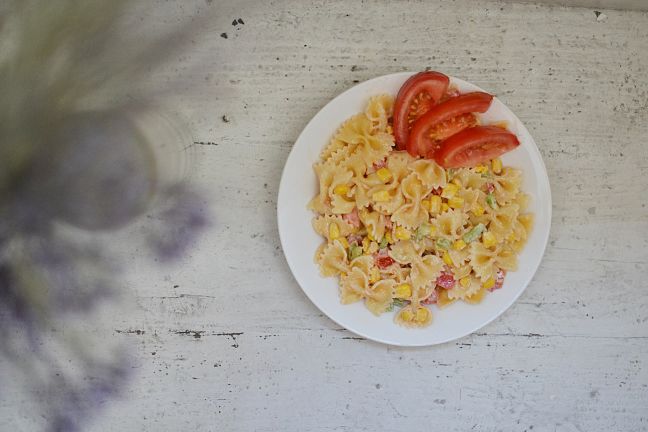 Instructions (for both salads)
Cook pasta in salty water for as long as it needs (please don't overcook!).
Put a spoon of olive oil on it when cooked and drained then set aside to cool down.
When it's cooled add the other ingredients and mix well .
Put in the fridge for at least one hour before serving.
Wise-ass corner
Spaghetti are quite tricky to eat so I would suggest you to use either the regular penne pasta or farfalle (the bows) because they look so pretty. Of course the choice is yours and you can use really any kind of pasta.
Why put it in the fridge before serving? Because the flavours will mix nicely.
When you are chopping the vegetables try to cut them in small pieces because it will be much more tasteful to serve it that way.
Both are vegetarian because that is how we roll in our apartment but my mom always adds tuna and I lovelovelove it.
If you want to know which one was the winner – it was the one with the little bows. I think the mayonnaise just has this charm no-one can resist. Also in general people really like corn in pasta salads.
Leftovers can be eaten for next 2-3 days if you store the pasta salad in the fridge. Eat is as it is or put on a pan with some eggs.