Energy balls are small treats that serve really well when 'the sugar is low' or you need a small snack in the go. You can prepare them in many varieties and store them in the freezer or the fridge to always have them in the storage. On the curryandlove I have already published a recipe for peanut energy balls and for protein energy balls with plums. 
But today I want to share with you that can energy balls be made of and how easy it is to make you own favourite combo. 
**1. Something fatty **
Besides the dried fruit this part is the one to keep our energy balls together. You can choose among coconut cream, coconut oil, pumpkin oul, peanut butter, tahini, … 
2. Something sweet
For a good flavour use some dried fruits (dates, plums, raisins) or sweeteners such as honey or maple syrup. 
3. Nuts and seeds
Both is really rich in healthy fats but I put them in a separate category. They will add texture and flavour to our energy balls. And there is plenty to chose from: almonds, hazelnuts, walnuts, flex seeds, … 
4. Extras
You can use protein powder in your energy balls to increase the amount of proteins. You can spice them up with different spices (cinnamon, cardamom). If you roll them in dark chocolate basically no-one will be able to resist them. Use also fresh fruit (bananas) or vegetables (carrots) but then your energy balls won't last as long. I like to add oats also, because they make the balls more fulfilling.  
I prepared two combinations of flavours for today's post. I named the first energy balls "healthy rafaelo balls". You need two ingredients for them: coconut cream and almond flour. I did put a surprise in them also (roasted hazelnut in each) and rolled them in desiccated coconut.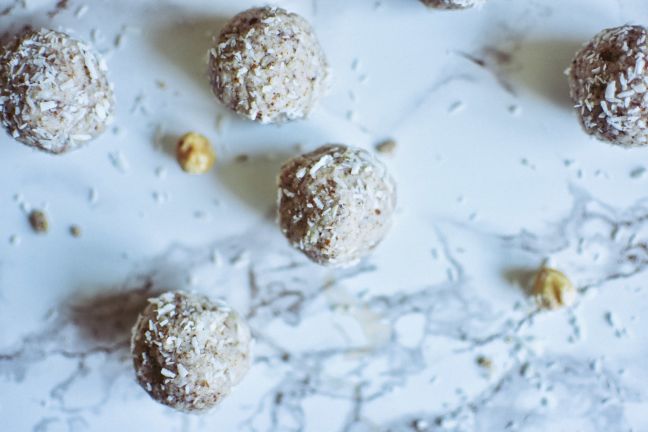 The second batch was made using dates, tahini, oats, cinnamon and cardamom. I also dipped them in dark chocolate, topped with cranberries and sprinkled some cinnamon on them.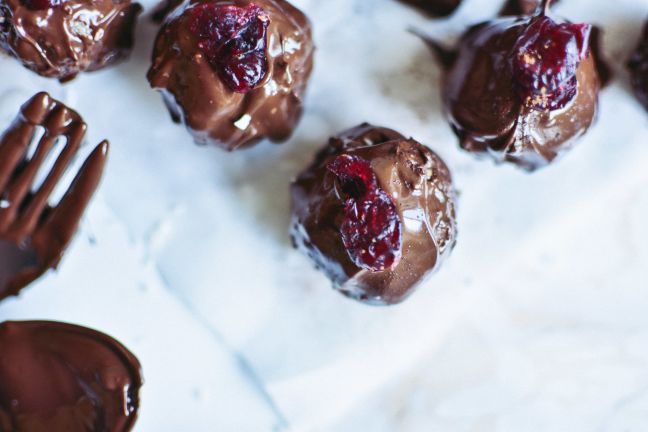 PS.: The procedure of making energy balls is super simple: just blend everything in a food processor and roll the mixture into balls. If you want to dip them in chocolate cool them down first.
Me and my brother were testing them and couldn't decide which ones are better. Which energy balls would you choose? What type of them do you usually make? 🙂