Cinnamon rolls are an amazing thing sent directly from heaven, if they are made correctly. They have to be buttery, soft and aromatic. And the frosting should add the finishing touch. After few tries I managed to find a right balance of ingredients to make these cinnamon rolls irresistible. 🙂 The test bunnies were my friends and if I calculated correctly they gave them 10⁄10 grade. They are easy to prepare but they do need some time to rise so keep that in mind. Let's get rollin'!
PS. Check out the veganized recipe too!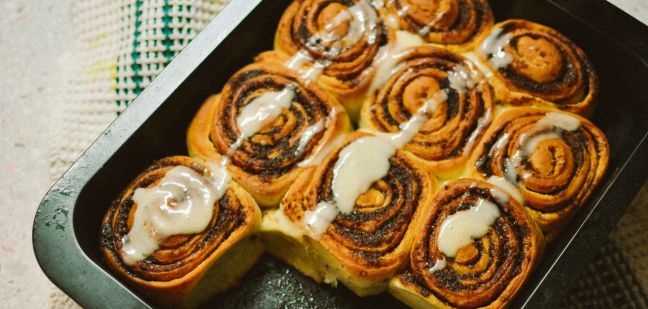 it would be great if you have
For the dough
Flour for kneading; 2 tablespoons of oil
For the filling
butter
softened or melted
For the frosting
vanilla sugar
(or use vanilla extract)
roll up your sleeves
Put yeast, half of the water, half of the milk, 2 tablespoons of sugar (take them from 100 g of sugar) and 5 tablespoons of flour (take them from 1 kg of flour) in a bowl. Mix well and set to a warm place so the yeast can activate and the whole mixture rises. It will take around 20 minutes.

Add flour, salt, eggs, butter, sugar, the remaining water and the remaining milk in a big bowl for kneading. Mix well. When the yeast mixture is activated add it also. Mix well with a spatula then put the dough to a floured kitchen counter and knead 7-10 minutes. ATTENTION! Because I'm so lazy I always set a timer, so I don't stop after 2 minutes. It's really important to knead it for long time. When you're finished oil the big bowl, put the dough inside, oil it also and cover everything with a clean kitchen towel. Set to a warm place for around 1 h 30 min. Afterwards the dough should be twice to triple in size and very soft to the touch.

Separate the dough in two parts (to make rolling it easier). Place half of it on floured kitchen counter and roll it (approximately 25 cm x 18 cm). Spread half of the butter all over it. In a bowl mix cinnamon and sugar and sprinkle half of the mixture all over the rolled dough. Then roll it so you get a long snake. Cut it in 2-3 cm thick pieces. Repeat with other half of the dough.

Place pieces in a baking tray (I didn't oil it but you can if you have a bad felling your cinnamon rolls gonna stick to it.). You MUST let the rolls breath. They don't like to be too close to each other because they will rise more. There should be at least 2 cm space between them. Cover the tray with kitchen towel and set to a warm place for around 1 h 15 minutes.

When the rolls have risen nicely bake them on 200°C for around 20 minutes.

While they are baking make the frosting. First mix the butter with a hand mixer until it's creamy. Then add vanilla sugar, powdered sugar and cream cheese and mix it again with hand mixer until the frosting is creamy. Add water until the consistency is not too thick to spread it over cinnamon rolls.

Drizzle frosting over warm cinnamon rolls and serve immediately.
wise-ass corner
It's really really really important to do as in instructions. The YEAST has to activate. The DOUGH must rise and the ROLLS also. You can achieve that with not too hot milk and water and to place the dough to a warm place to rise. Also DON'T place the rolls too close together because they will loose their fluffiness.
If you don't feel like doing the frosting – you're doing a grand mistake and you should think about your actions.