If you're crazy about Sicily I prepared for you also Sicily • part II.
Sicily disappointed me in the first few days. OK, the weather was great. But all the other stuff – meh. Why everything stinks? Why are trash everywhere? Why are there prostitutes standing by the road in the middle of the day? Are all the refugees and immigrants, playing cricket and soccer by the sea in Palermo well taken care of? _All the problems of the today's society basically slapped me in the face. _
Brave, as we are, we went to Sicily without any preparations. We didn't book any hotels (just a rent a car that got a few nicknames in the 9 days that followed but Ocvirk (Pork Crackling in Slovenian) was my favourite). I had this vision of how we are going to drive through all the magical Italian villages where grandmas will sit in front of houses and rent rooms for cheap. Or that we are going to charm them with our cuteness and they will at least let us sleep safely on the driveway in our car.  
NOPE.
I might as well rename Sicily to 'The Motherland Of Fences'. Whoever builds escarpments on Sicily is a rich man! All houses are hidden somewhere in the land and you can't see them due to all the fences, escarpments and trees. Meaning our first night of driving from Trapani to Palermo was quite a nervous drive and Klemen couldn't stop repeating how fast you find a place to sleep in Slovenia. We were exhausted and apparently the idea of sleeping on one of the main streets leading to Palermo seemed OK. We were probably thinking that the towels we put on windows have the same effect as H_ermione's spells._ Well apparently they did. We survived our first night. Let go to the beach. 
We come to the main beach of Palermo (Mondello), where it stinked of canalisation quite a lot. But for a tired travellers like us even that was fine. In the afternoon we went to see Palermo where all the questions from the beginning of this post started to pop in my head. Besides that a cultural shock hit me (and I clam, even if pretentiously, that it rarely hits me). 
Driving in Palermo is worse than in Jordan. And I thought that it's really bad there. But in Palermo our Ocvirk somehow made it through all the almost-hits with help of Klemen. After Palermo we went to a small town Caccamo. Cute one, with a castle. We slept by a lake. Mmm, felt quiet and great.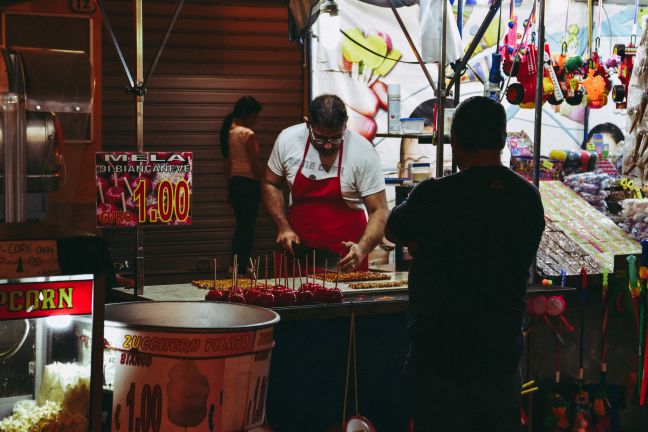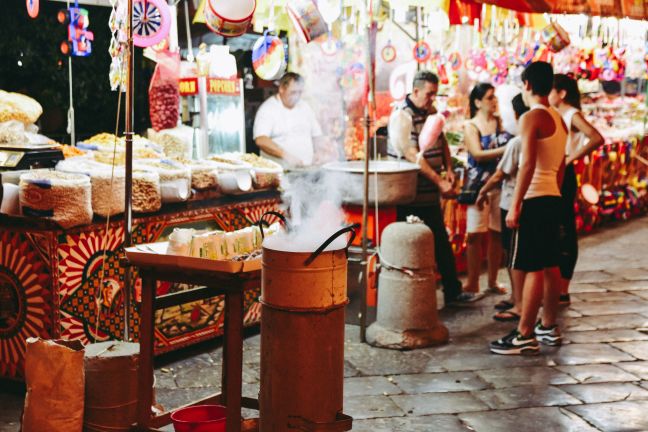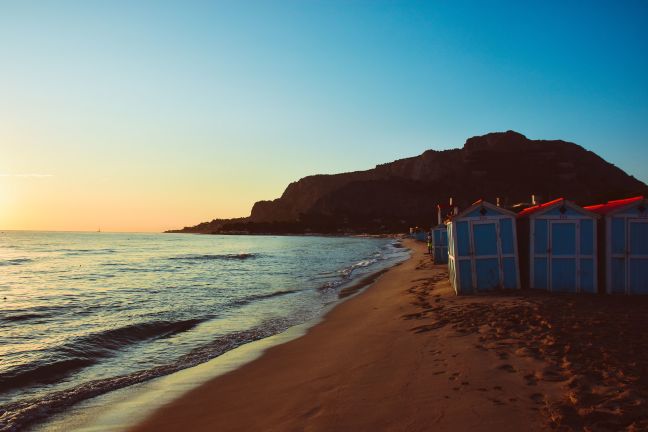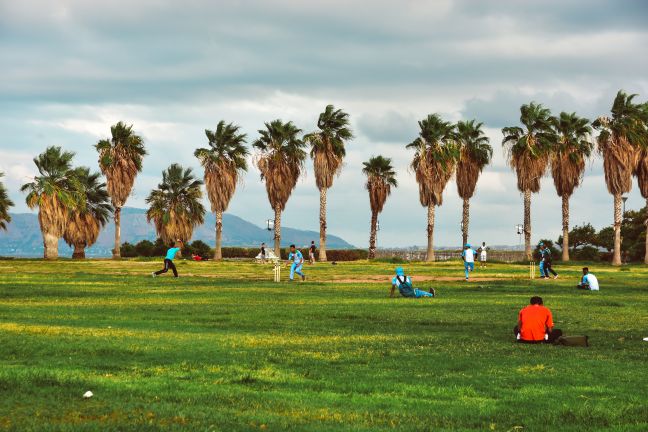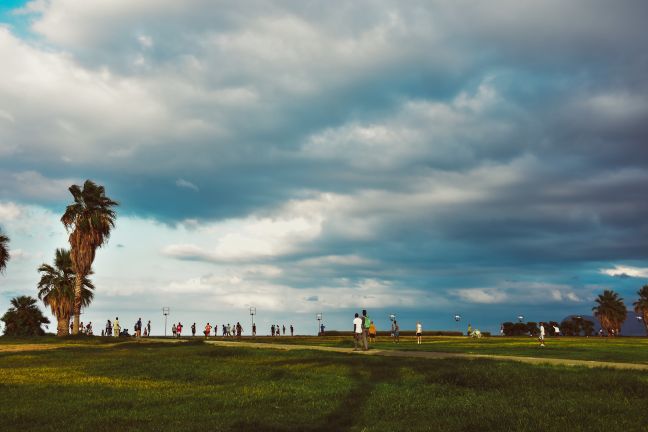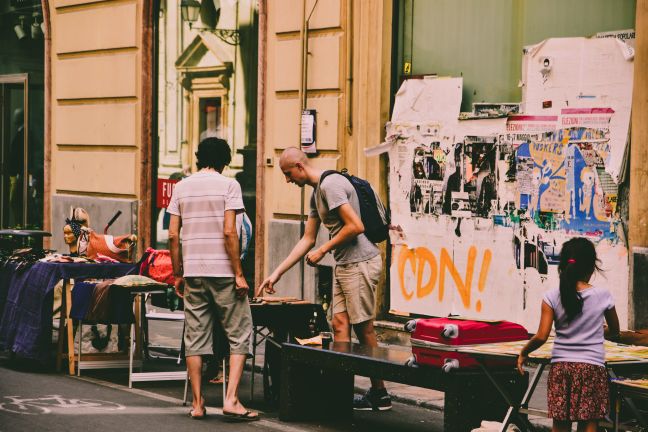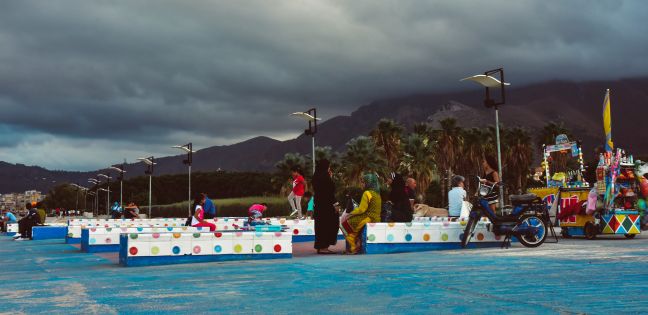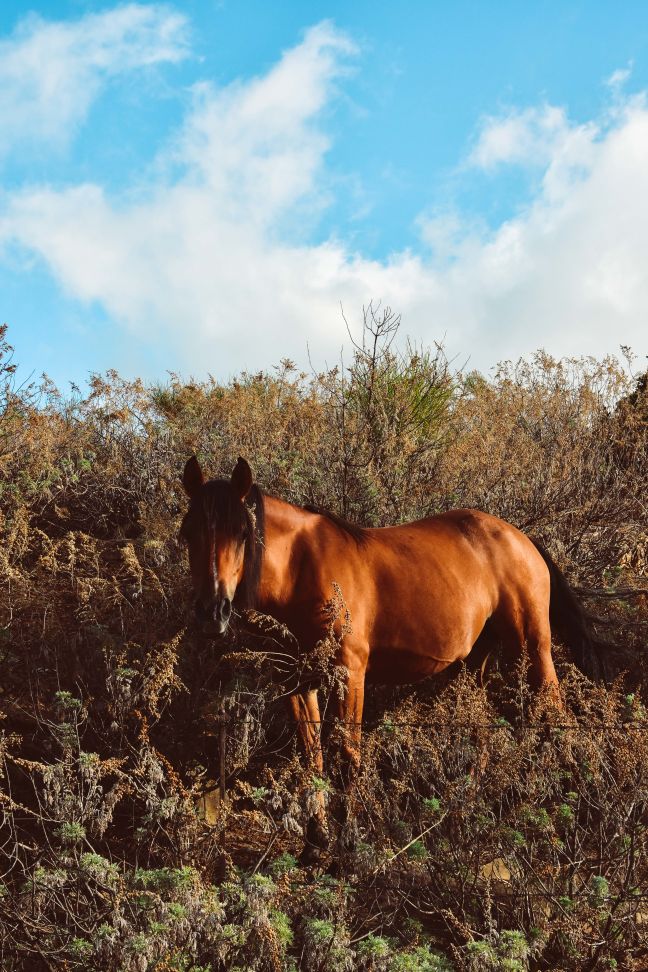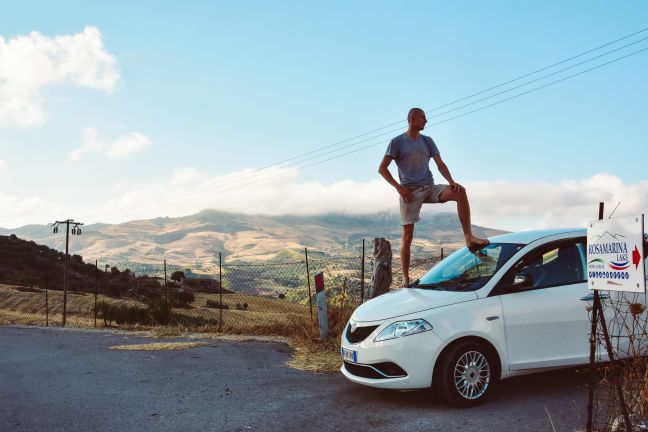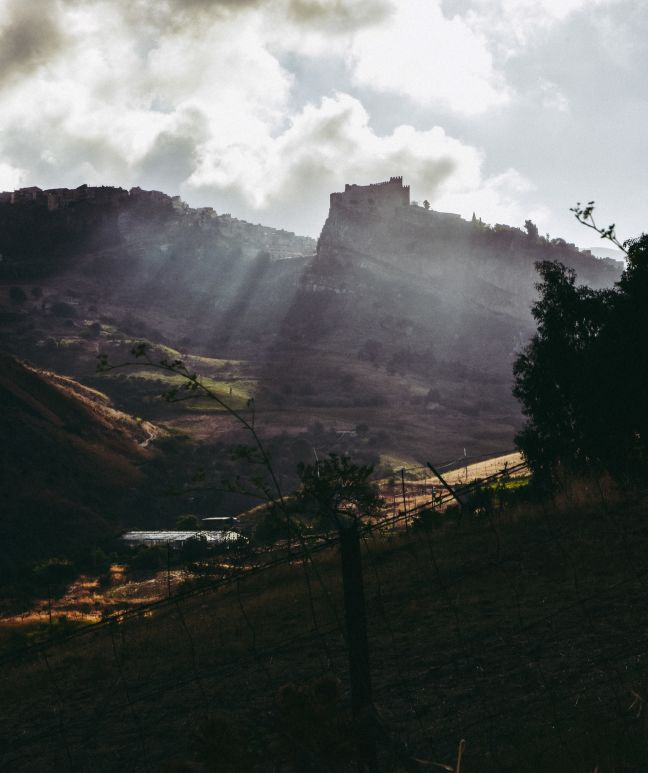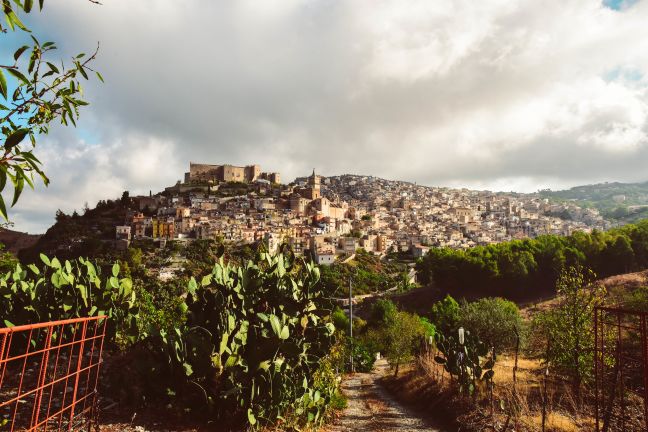 But the adventures only escalated from there on and we started to dig Sicily. Which I could understand in the moment we got the best arancini and coffee with cream in a local cafe full of grandpas. But I will talk about food in my next post. After two nights of sleeping in the car we decided to book an AirBnB and found a great deal (10€/person/night). The location was great but 140km from us. **And we didn't want to use the high way. **
So the third day was a pretty road trip that took us all the way from Cefalu, Randazzo to Giarre. We were randomly stopping in small villages while driving and in the heat of the moment even bought [a bottle of wine for 20€][1] form the valley of Etna. (But it was delicious!)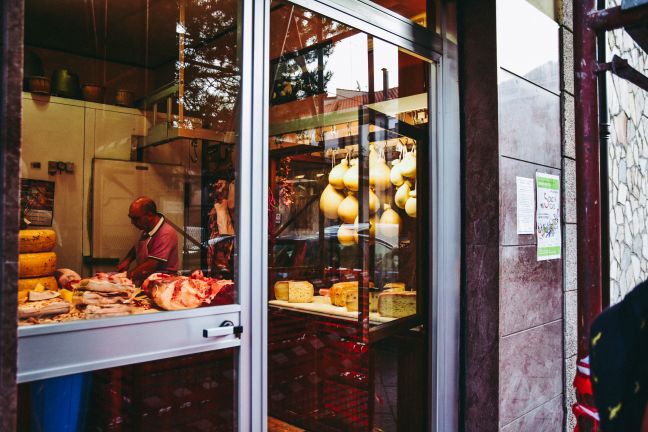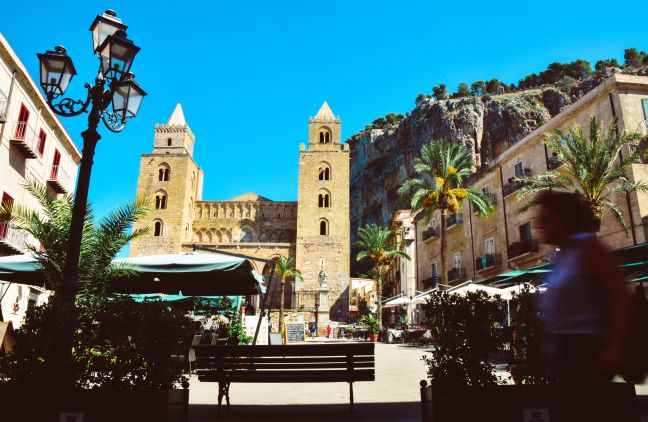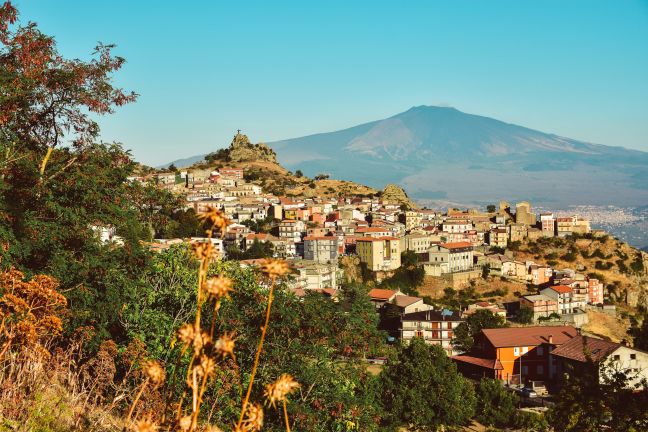 Next three days were so care-free (maybe because of the fact we actually had a place to sleep?). First day we went to Savoca (where they filmed Godfather). The truth is I never watched it. But the town is cute. On the way back we went to the beach a bit and checked Taormina where an amphitheatre with a view of Etna is hiding. When I say it's hiding I mean it very literally. We came to Taormina past the amphitheatres closing time. The town itself is pretty lame and touristic. From the photos I saw on google I could say that the amphitheatre looks nice. Everything around didn't amaze me and I wanted to leave ASAP (maybe [bad canolli][2] had something to do with it). The second day was chill day at the beach and in the evening we even found some local party of mangoes and pomegranate (both actually grows on Sicily). Day three Etna was on our list… Ah, Etna.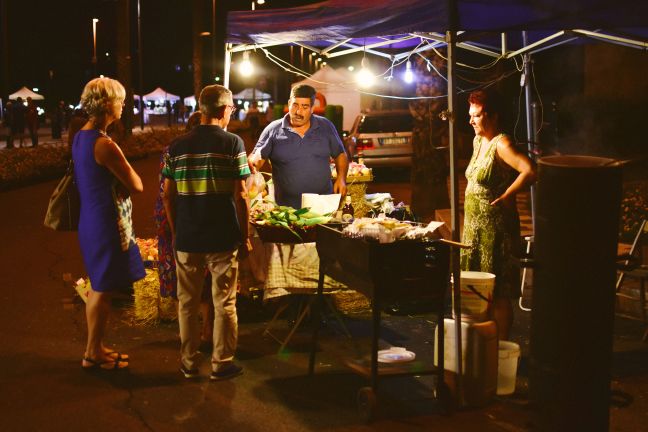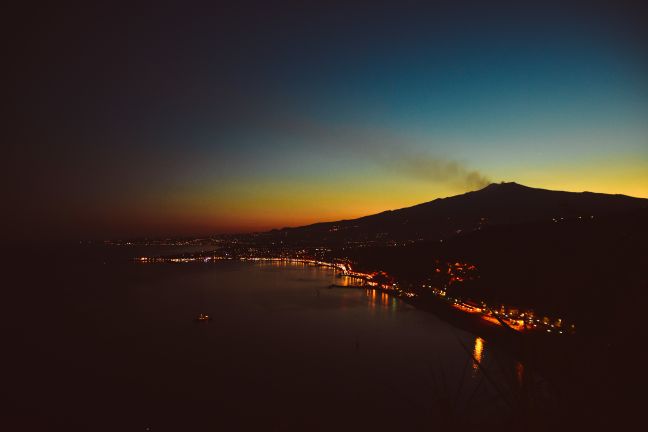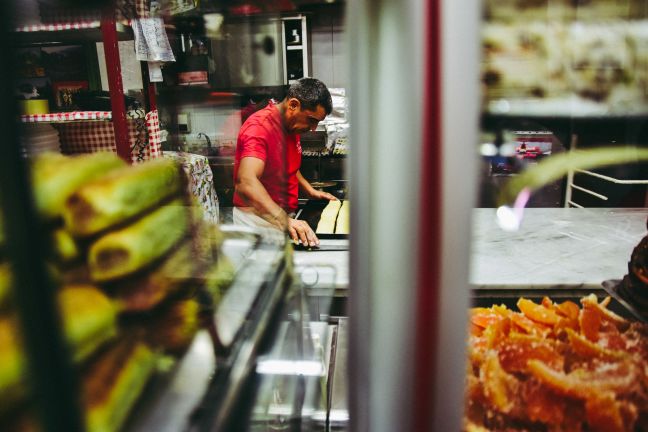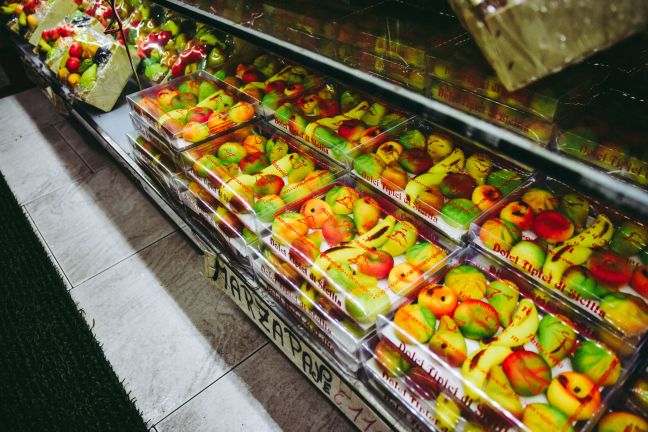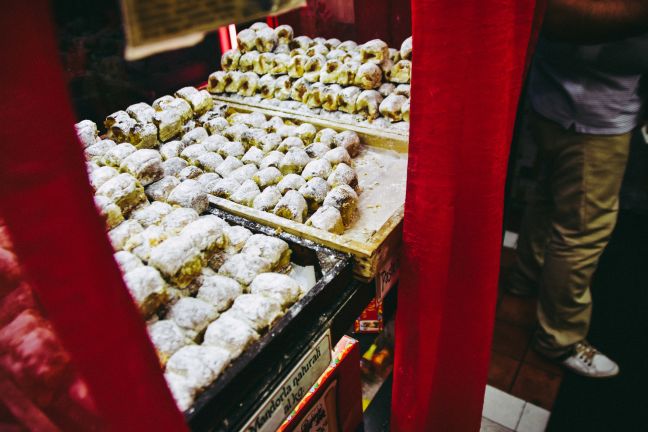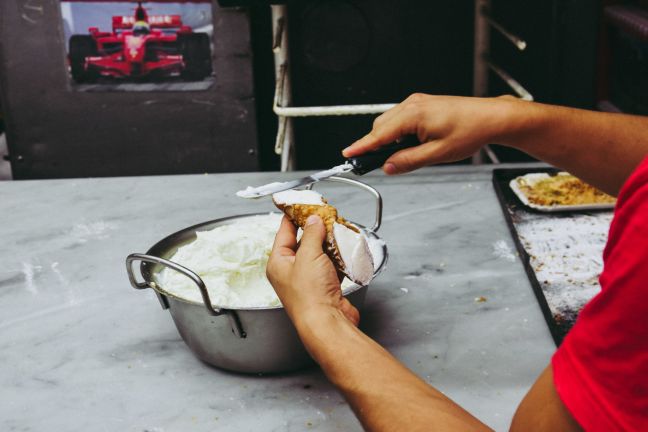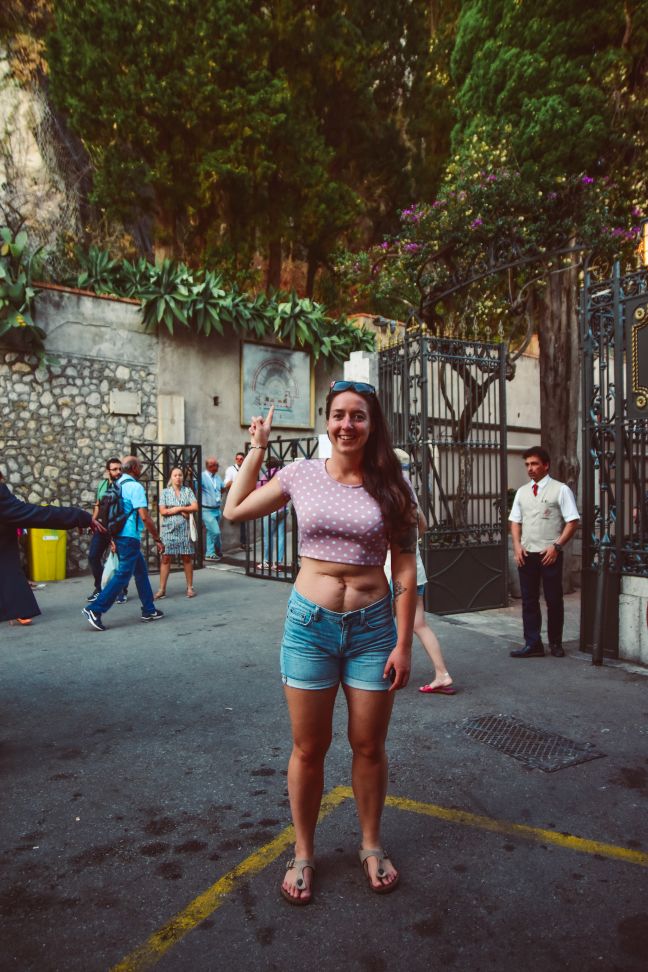 That's all I got from Taormina <3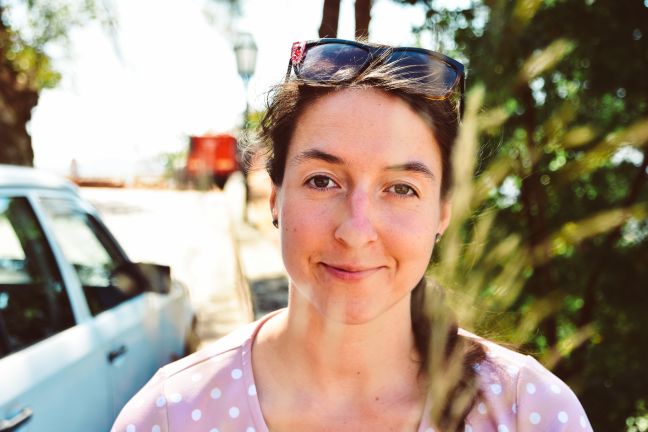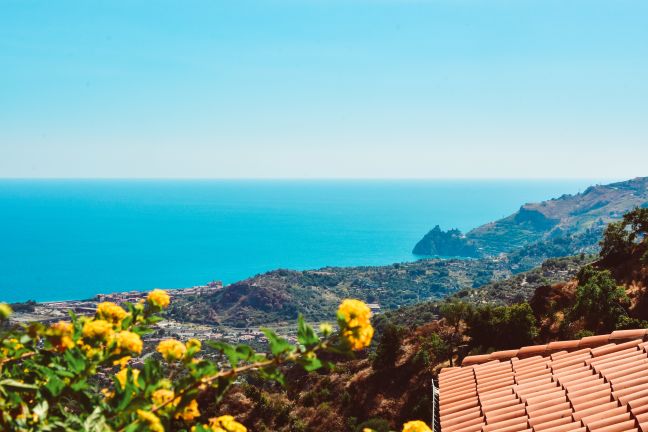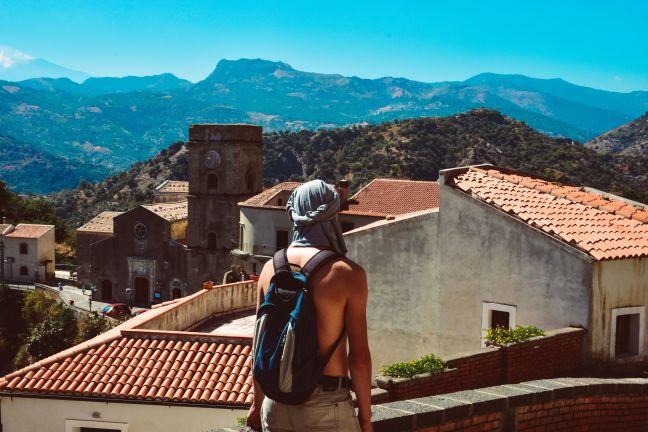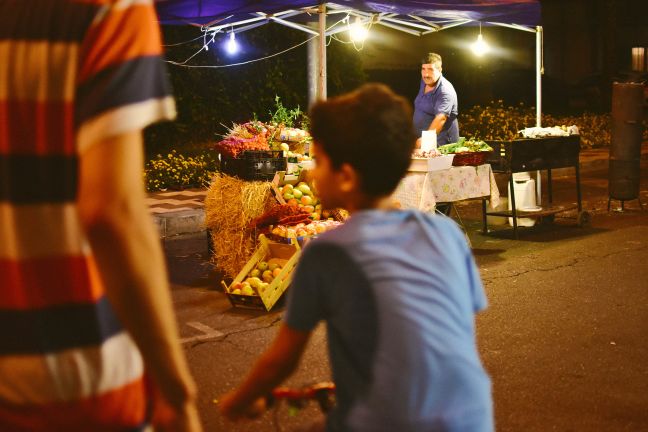 Etna is not a stroll and not a tiny hike. **Well, it is if you have 84€**. This price will take you up and down with a combo of funicular and moon-like-vans (look at the photo material below). We started to walk in Sapienza (from where the funicular starts), shoved Ocvirk somewhere, so we didn't have to pay parking and it began. But we went without hats and sunscreen and _I really recommend both_. For me (someone who has been two times on Triglav) the hike was sooo exhausting. The rocks slide and it's very difficult to walk. But we made it in around 1h and half to get to the funicular station and another good hour to get to the crates. **ATTENTION!** This doesn't mean that we went all the way to the top. If you want to get to those craters, that are on 3300 m, you need to have a guide and pay a similar amount I mentioned. We were OK with a bit more humble lift. I suggest you bring all the food and drinks with you because at the stop everything is $$$. 
Oh, I forgot my camera in the car, so all the photos are taken with different means.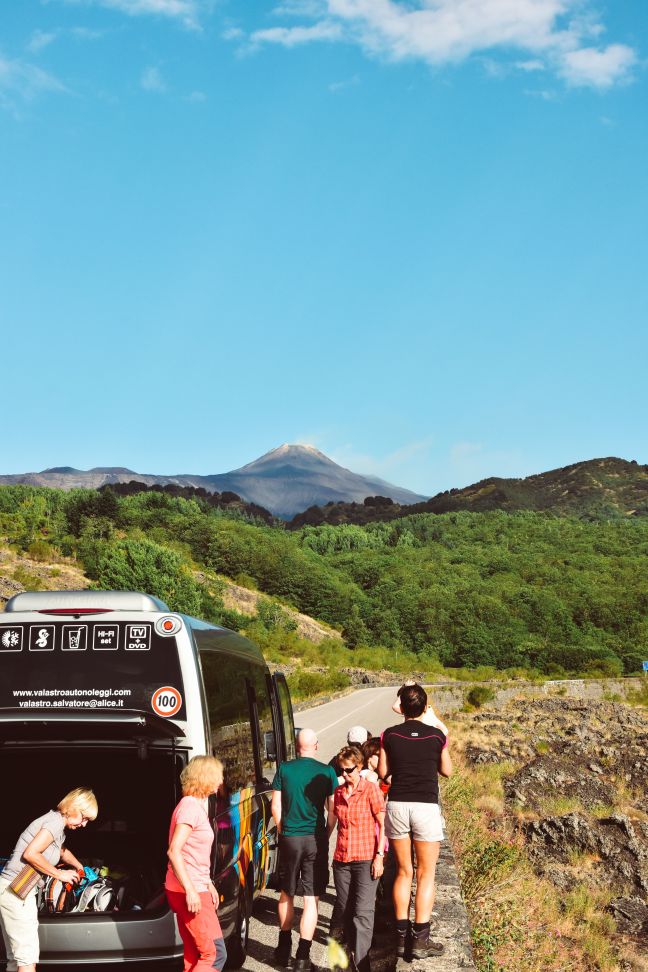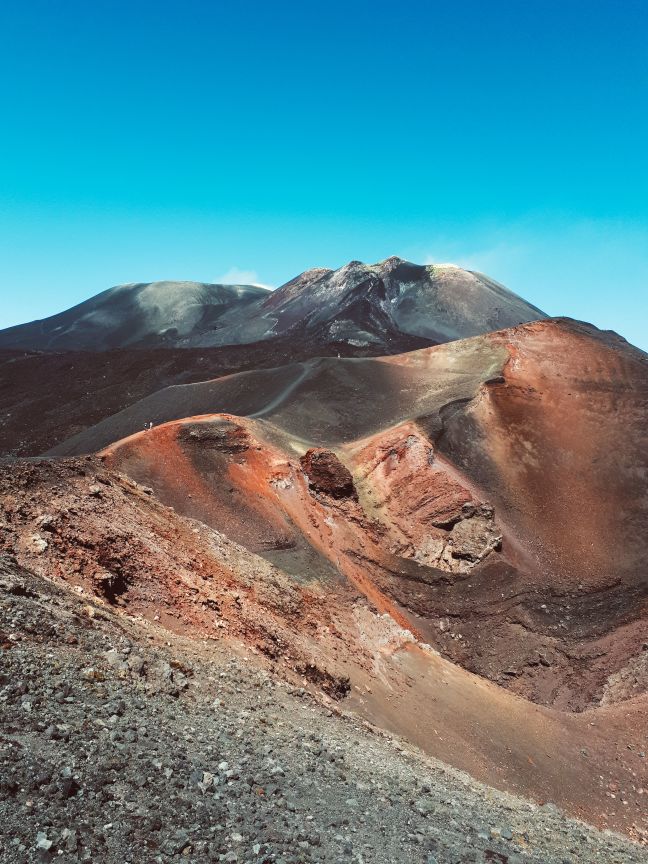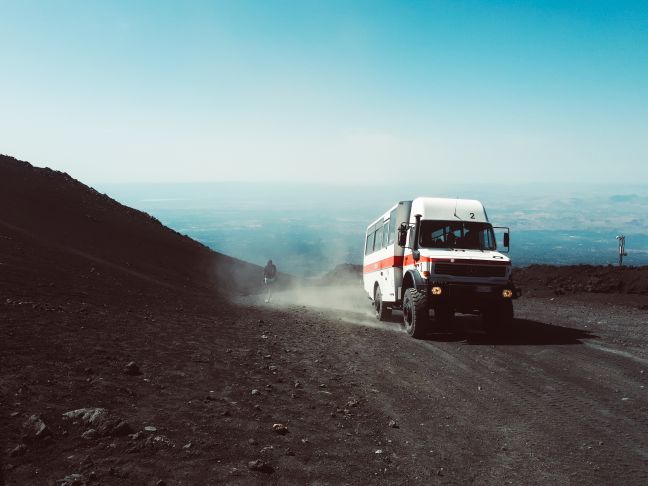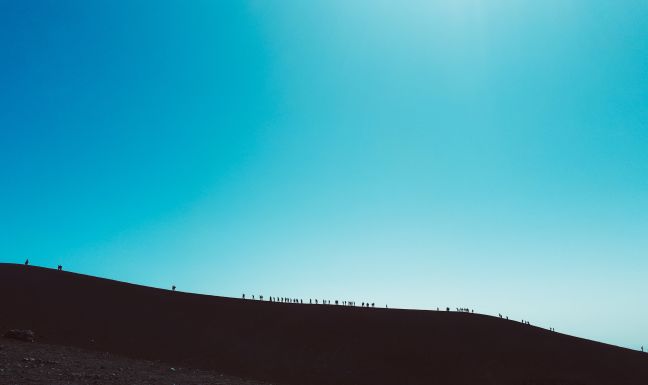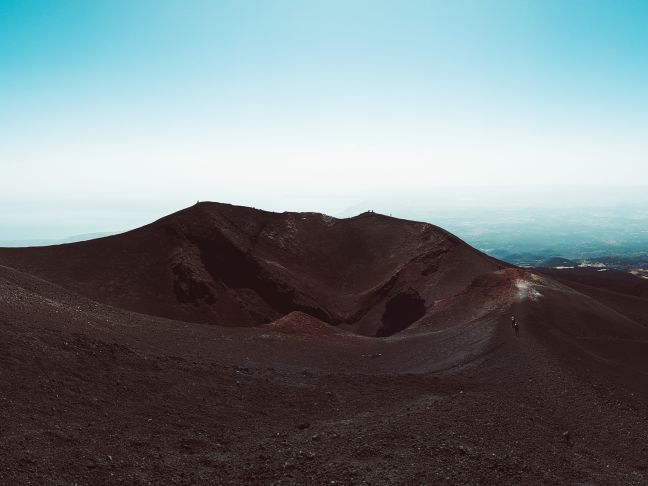 After Etna we went straight to the beach and ate a whole tube of ice-cream. Then we tried to find a safe spot to sleep around Catania, which was difficult due to prostitutes and their stations. But after around one hour of search we found a perfect spot and slept like babies. 
Next day I went for an adventure in Catania and Klemen decided to be a hipster with Mac and sit in a cafe. Catania really amazed me with two markets that just appeared in front of me. First one was really big and they were selling everything – from fruits to second hand clothes. The business and atmosphere took me back to Jordan, where I was buying food on markets like this everyday. The second market included fresh fish and sea food. Yap, Catania drew a smile on my face. Besides the fact I stepped in a dog poop at the end of my adventure. _It's dirty, OK I know, I told you already. _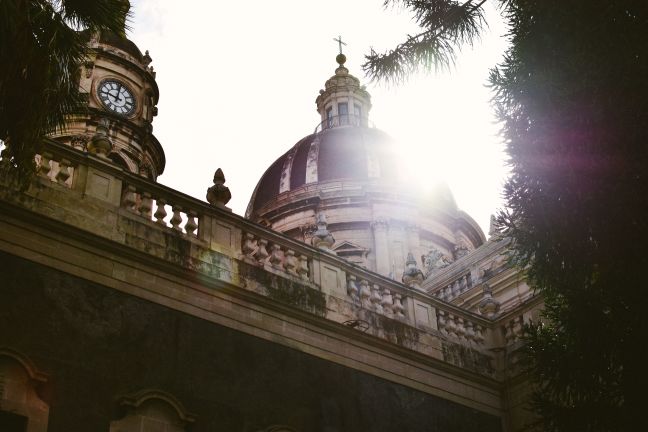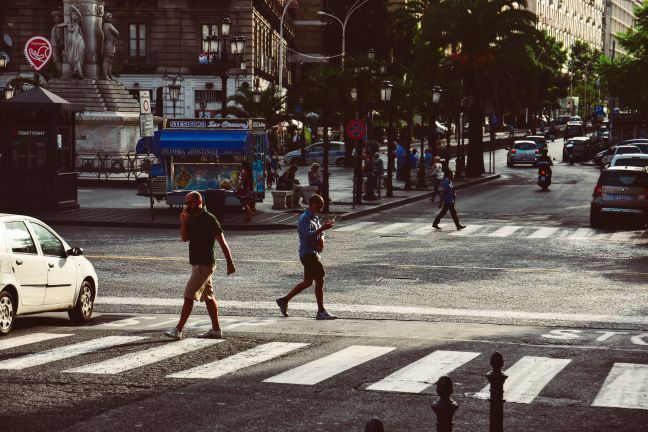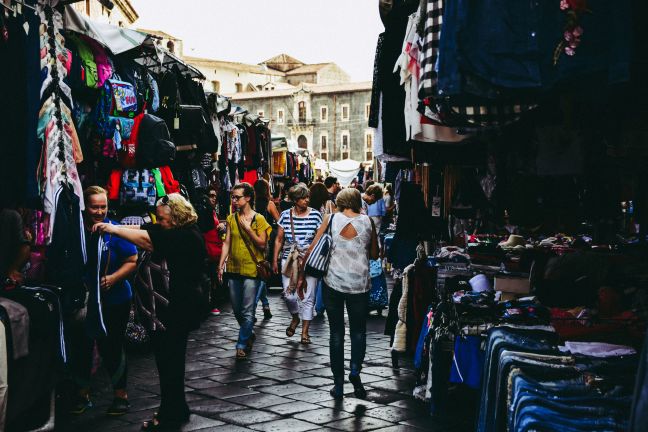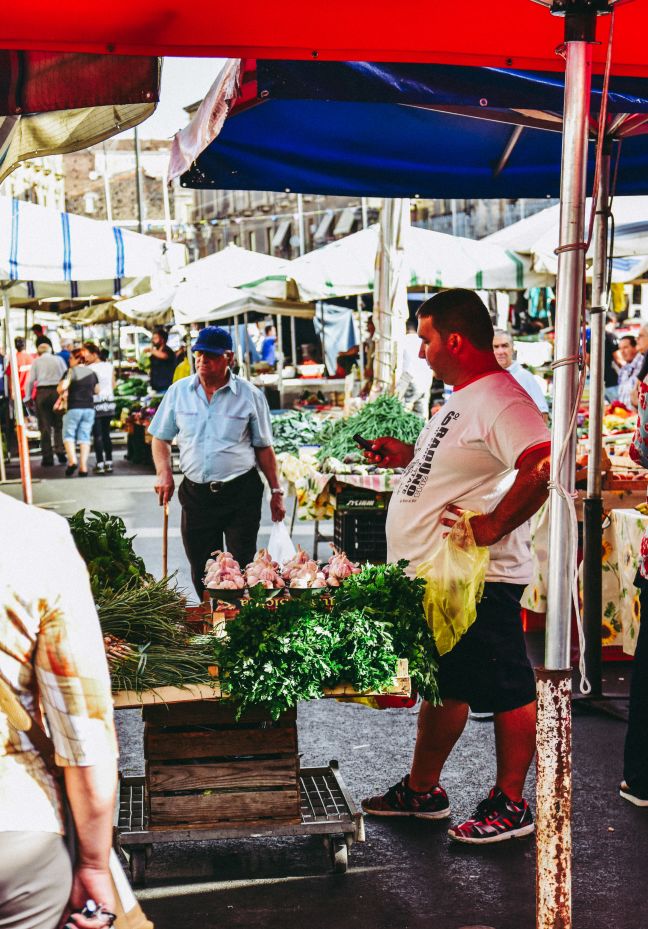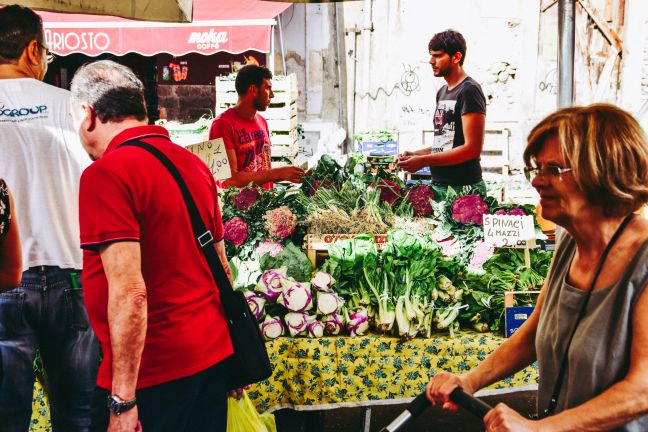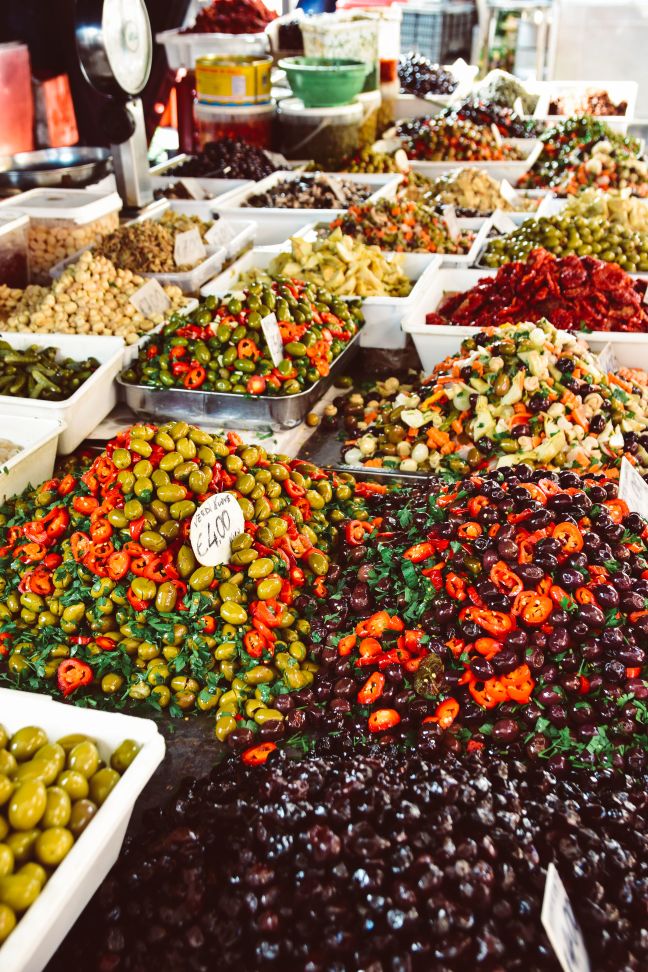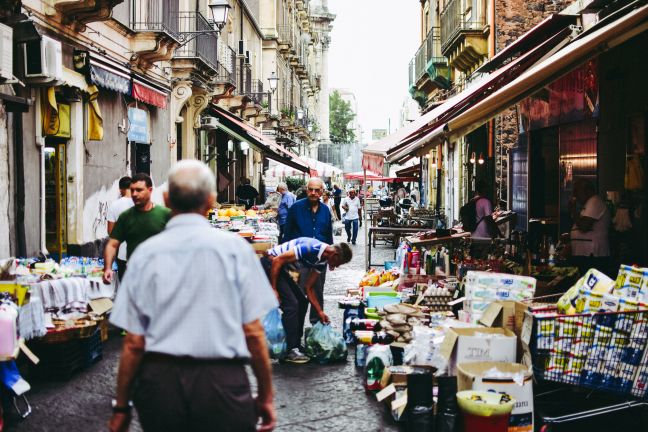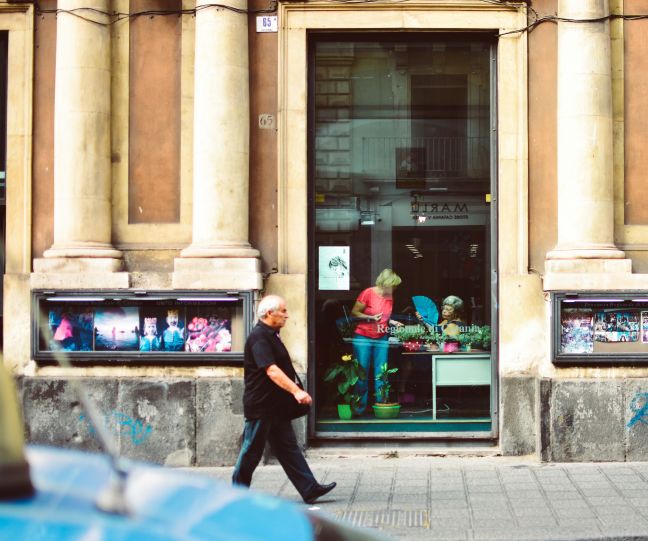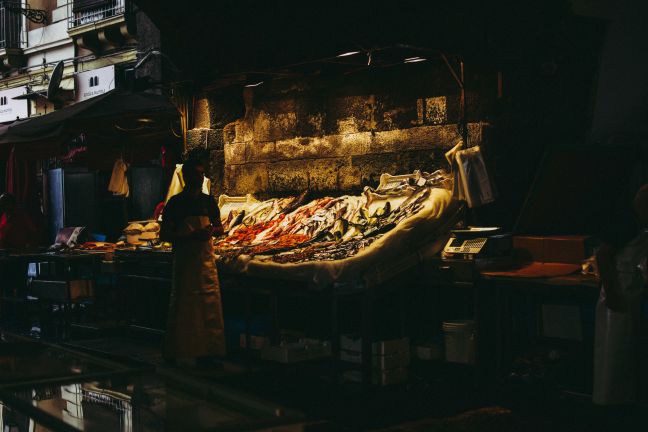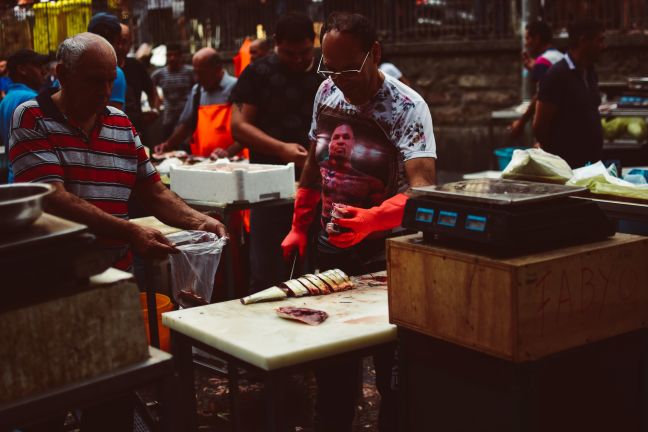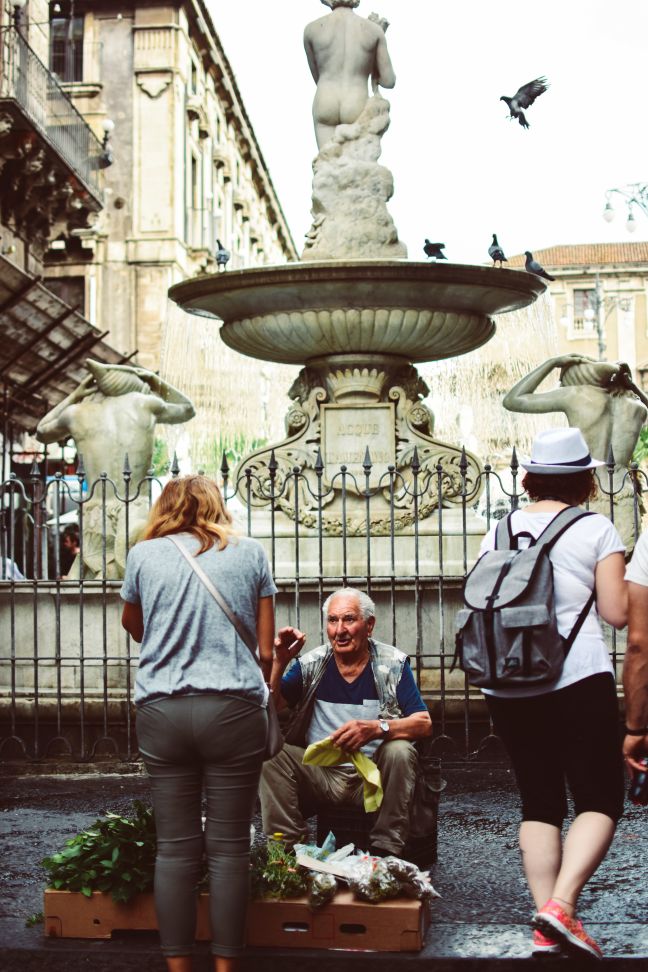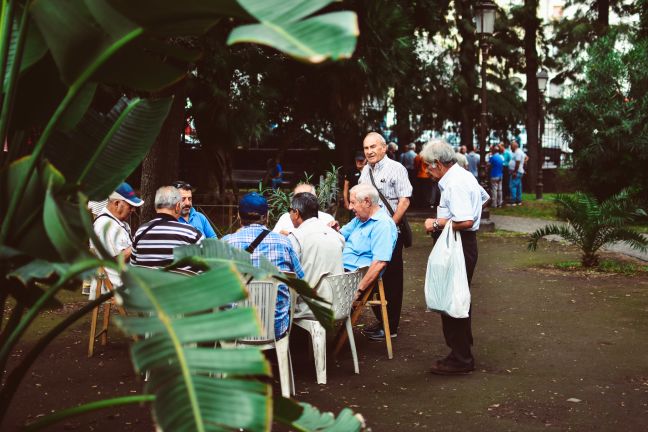 We went to the beach and spent the day in really pretty Sirakuze or better said on the island Ortegia. We liked it so much we even payed 4€ for the parking and 20€ for dinner! And then somewhere in the mainland we fell a sleep, listening to cow bells.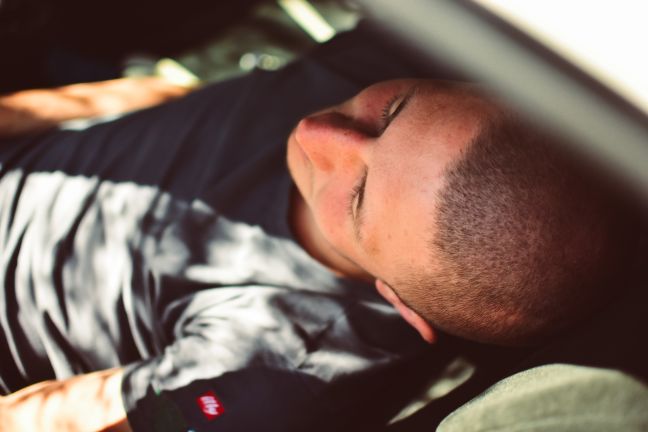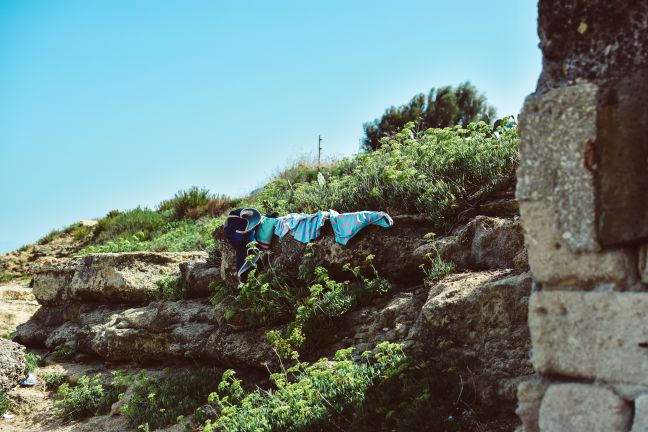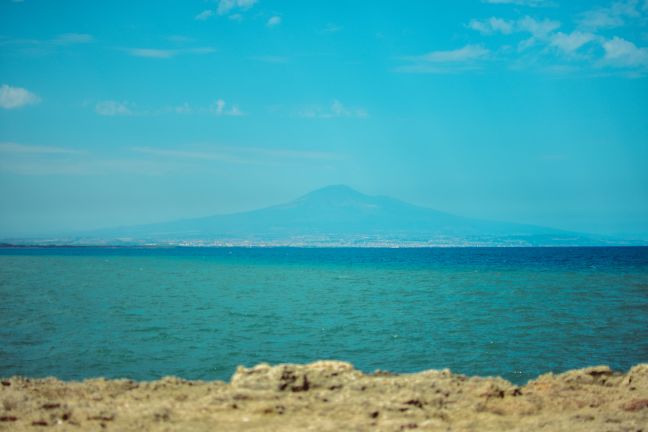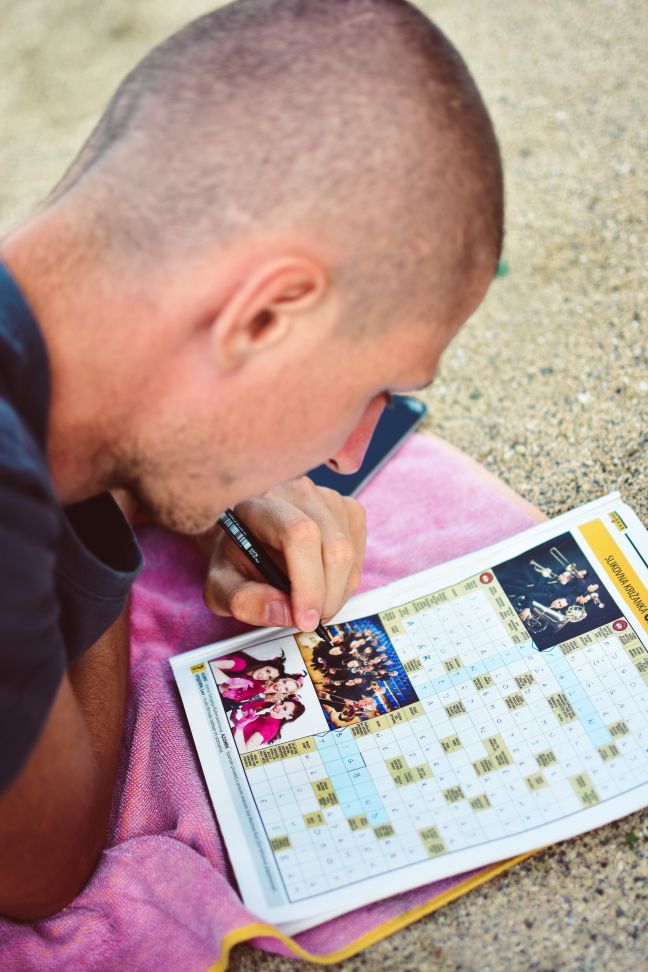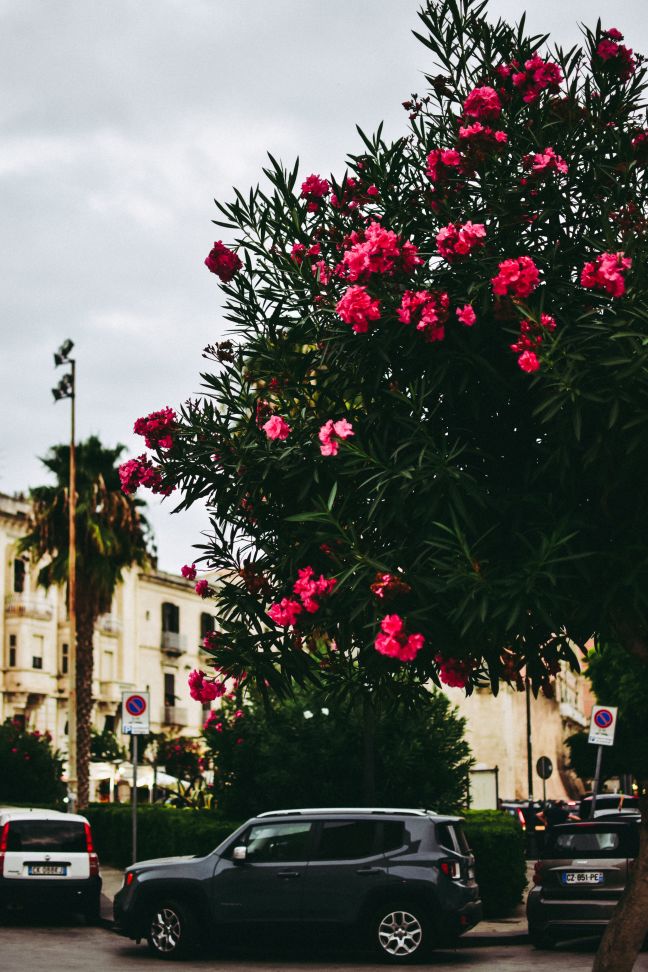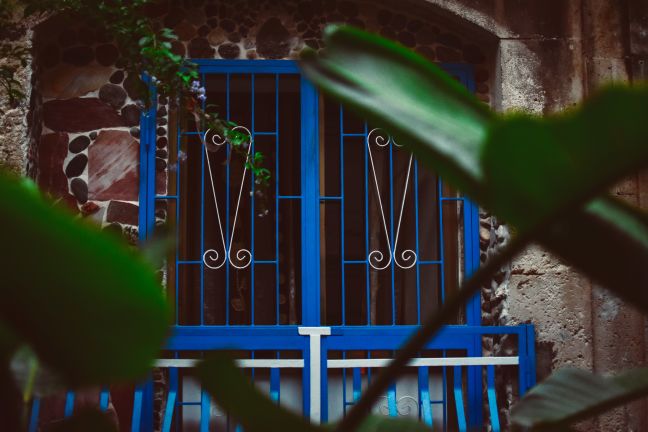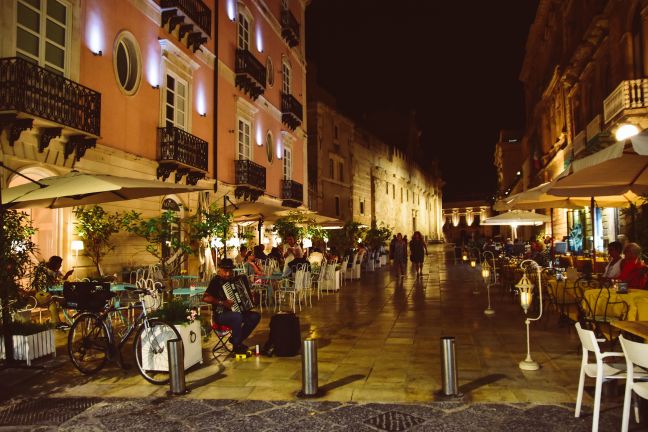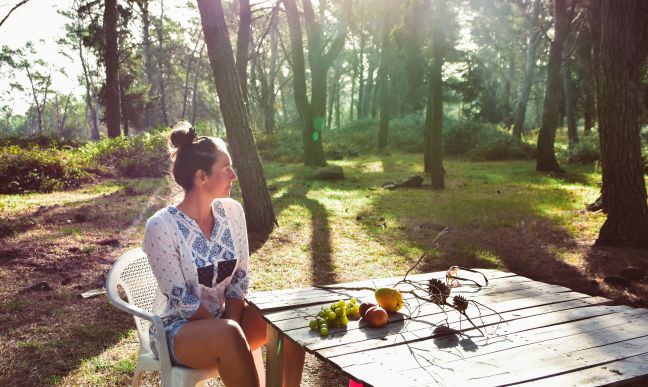 Klemen read somewhere that it's not a good idea to visit all the Sicily. Well that's we did at the end. The last two days were spent driving from Sirakuza to Trapani (which is half of the Sicily, the southern part). Meanwhile we checked out the valley of temples in Agrigento (I give it 5 starts), went to few beaches, stopped in small villages and even went to the cous-cous festival! More about it in my next post 🙂
Oh, and we also stopped in Scala dei Turchi – white rocks by the sea, where everyone takes photos. For me the most interesting part of them was a watermelon we brought with us and then some Italian lady brought us a napkin to pick up the seeds. From the rock. By the sea. I would give them half a star only and I see zero fascination in them. 
And so the Sicily was slowly coming to an end and we didn't want to leave. It was really an adventure and a half! It included famous sights and tiny place. I really had no idea Sicily is such a mix of cultures.
PS.: Sicily also has another hidden bonus. If you are sightseeing in the cities by the sea (and most of them are right by the sea), you can combine city walks with beach time. I was really fond of hiking Etna or discovering Catania through the day and then chill at the beach in the afternoon, do some crossword puzzles and eat pastries from a nearby bakery.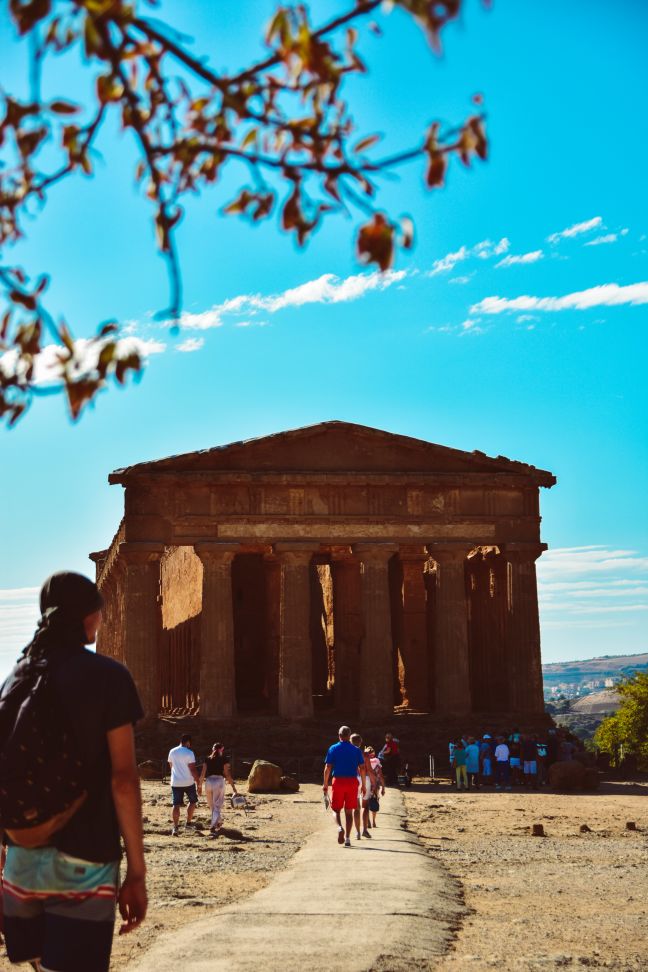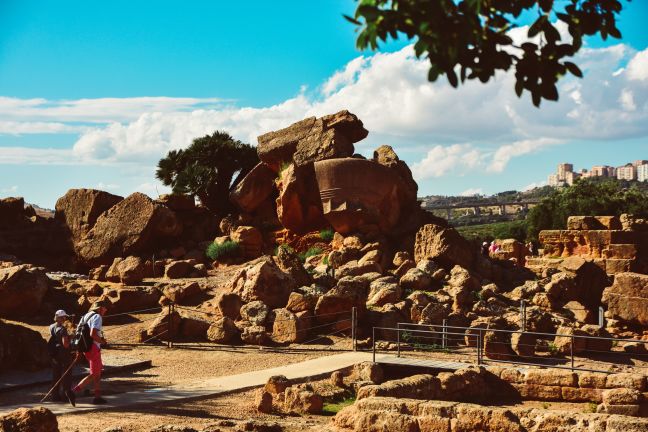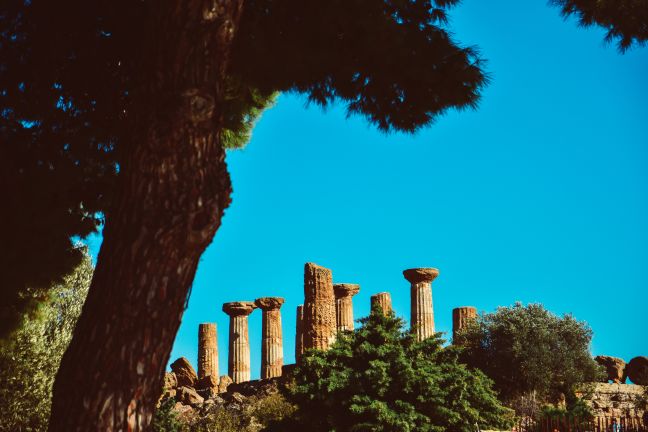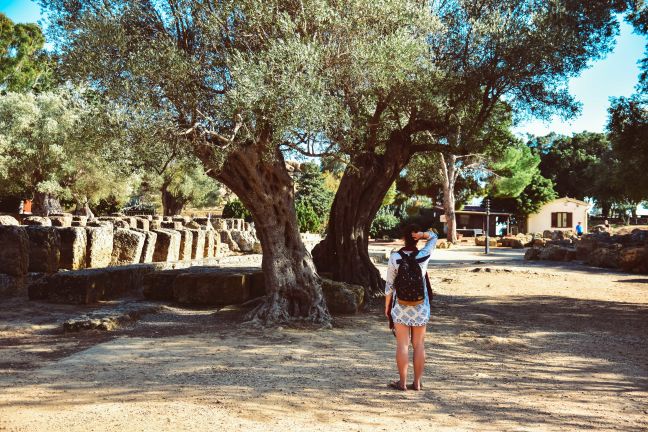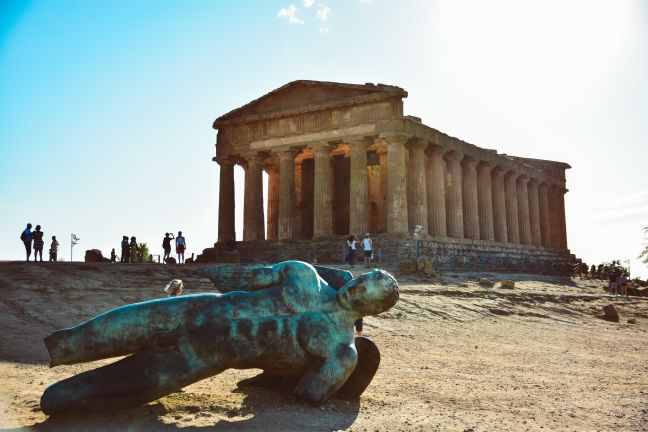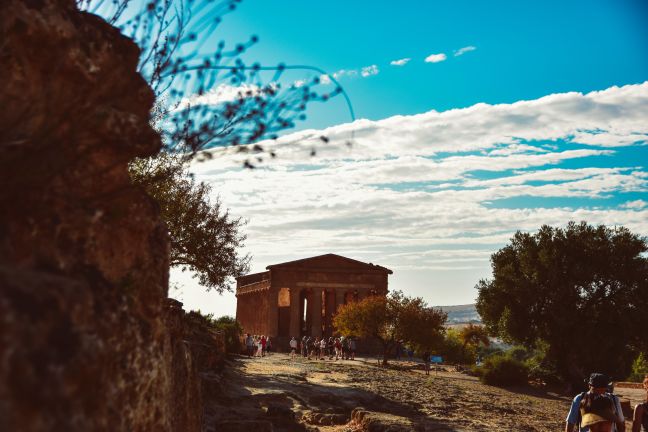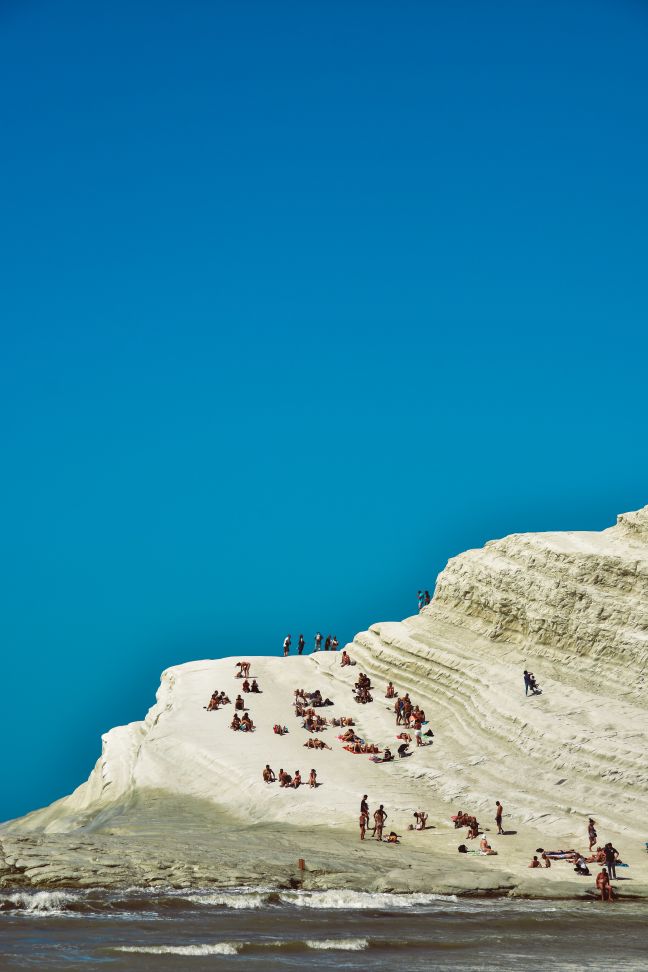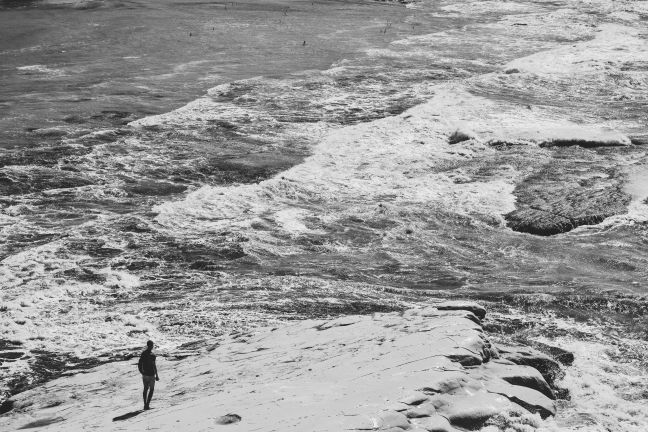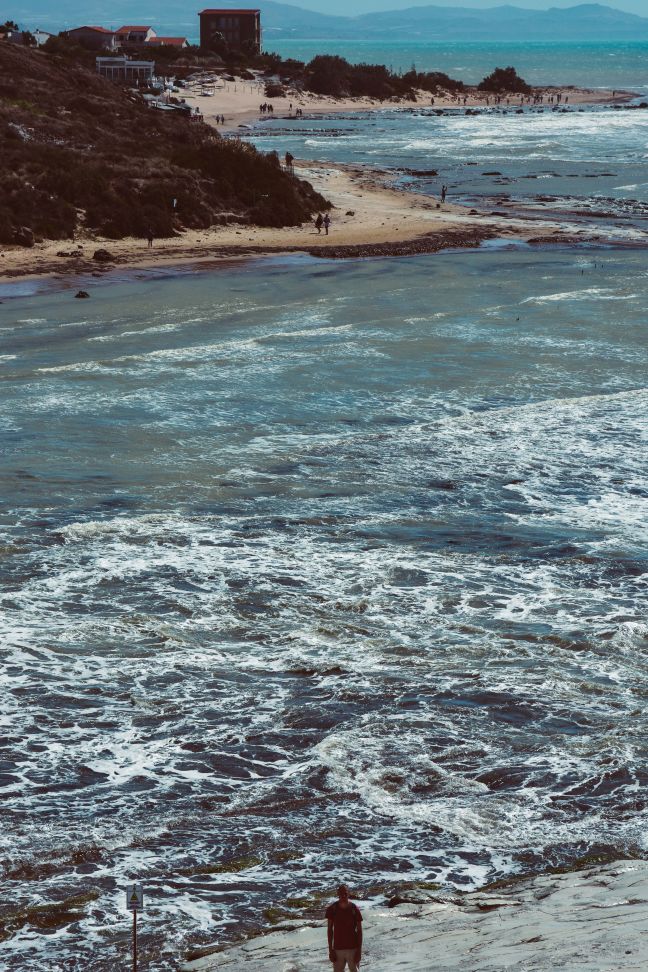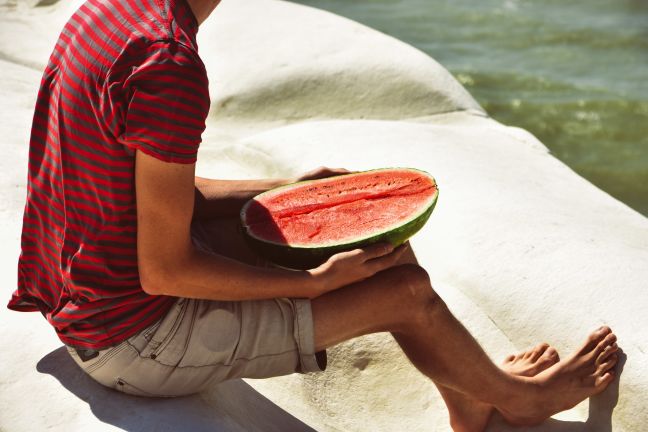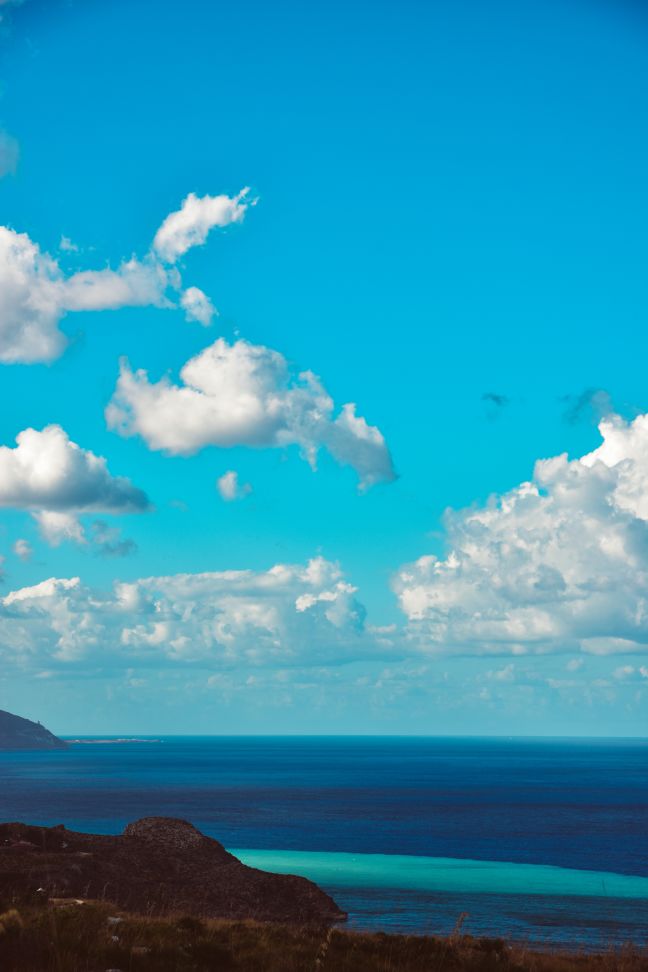 Few more tips and trick Sleeping
We slept through AirBnB in [Giarre][3], [Camastra][4] and [Trapani][5]. I really recommend all three since the owners are super nice and the flats clean and cheap (10€/night/person). Of course the price also depends on the season. All of them also have a free parking, which was very important for our Ocvirk. We slept 4 out of 9 nights in the car and I would recommend that only to those that really have the motivation to search for good spots. It difficult to find them specially near the cities and beaches. 
Car
We payed 140€ for 9 days rent (including extra insurance). We booked it thorugh Ryanair page and only later we found out we need to have a whooping 1700 deposit. Luckily all was fine. We did 1400 km. Actually Klemen did and he gets a special reward for a good driver for that. 
Parking
Sicily has signs in the city, where you can see how much you need to pay and if it's allowed to park. We managed to get some good free spots mostly and spent only around 10€ for parking. Sicilija ima v mestih večinoma napisano kako se sme parkirati in kakšna je cena. Nama se je parkrat uspelo malo 'pretihotapiti' in sva za parkinge porabila le okrog 10 eur.
Language
If you have at least a bit of talent, learn some basics of Italian or have google translate with you. Phrases came in handy in small non-touristic places where no one speaks English. Ok we knew only 10 words but really helped. And the people we met were REALLY kind and helping! 
Mafia
What mafia? Mafia doesn't give a damn about tourists. 
Temperatures
In the period from 12.9. to 21.9. I can report about perfect temperatures. Such nice summer!
Don't forget that Sicily has 5 million people and is as big as Slovenia (if you know how big is Slovenia). So to drive through all will take a lot of time and energy from you. Specially if you are visiting it for only 7 days.
Hand drawn map of Klara's, Klemen's and Ocvirk's tour: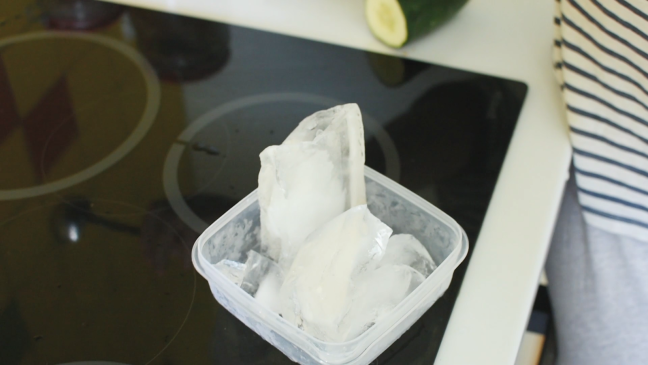 [1]: https://www.facebook.com/curryandlove/videos/1075038422632204/ [2]: https://www.facebook.com/curryandlove/videos/1073889392747107/ [3]: https://www.airbnb.com/rooms/20539243?eal_exp=1507878272&eal_sig=aa5e8de254ce81765b0be913b96371b3ed460a3cea695a3af24b7f96a7539fdd&eal_uid=60990630&eluid=0&euid=4dc10f23-a065-a516-a5d4-de00ea5ff0c4 [4]: https://www.airbnb.com/rooms/18045677?eal_exp=1508099655&eal_sig=5174a944ee2977ed15bb5efa58b0402f300483b1aa1f2c8351774aa52eb05170&eal_uid=60990630&eluid=0&euid=bae1ebfa-35fe-f4df-b310-1382924efa06 [5]: https://www.airbnb.com/rooms/6930151?eal_exp=1508097174&eal_sig=62f4ef6845e052212b14c2d5da727e119a79c7715aa721e212fdc18ecff1f4f4&eal_uid=60990630&eluid=0&euid=0eb55b04-80ae-9352-83aa-9db99923fc9c